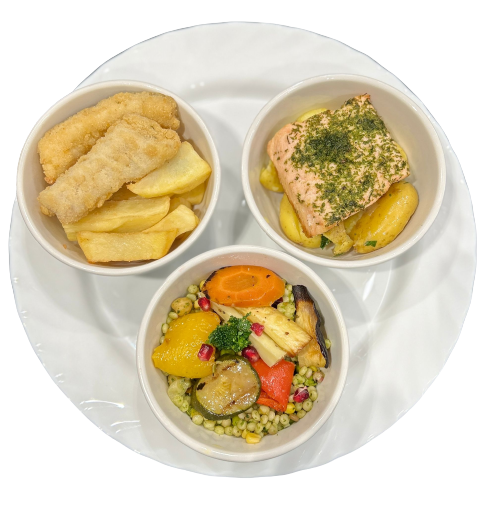 Grilled Salmon on bed of New potatoes, Fried Haddock Goujons on bed of Fat chips & Grilled Mediterranean Vegetables on bed of Couscous
---
For our A la carte menu on chinaware, the food is plated on brand new China plates and double sealed to ensure the food remains Kosher during service in non-Kosher venues. This is our top of the range menu and it is ideal for a diner who is looking to have an exceptional "sit down restaurant meal" experience, similar to other non-Kosher diners at the venue.  Our China plates can be heated in a conventional oven as well as a microwave. Stainless steel cutlery is provided.
Our A la carte range on disposables, the food comes on disposable dishes suitable to be heated in an oven. The main course is provided on a foil oven platter and is double-wrapped, to enable heating in a non-Kosher conventional oven. We also provide an extra disposable plate for you to transfer the warm food if you wish to do so. Soups are provided in single-serve, oven-proof dishes/bowls.
For your convenience, all our hot starters, mains and side dishes come in aluminium containers, ready to be placed on your hot plate/warmer. Soups are supplied in plastic containers.
The cold breakfast tray can be upgraded to a hot breakfast by adding any of the entree's and/or bakery items. The hot items are supplied in oven/microwave safe dishes. This menu can be delivered/collected fresh or frozen, please specify this in the delivery notes when checking out.